East to the Dawn: The Life of Amelia Earhart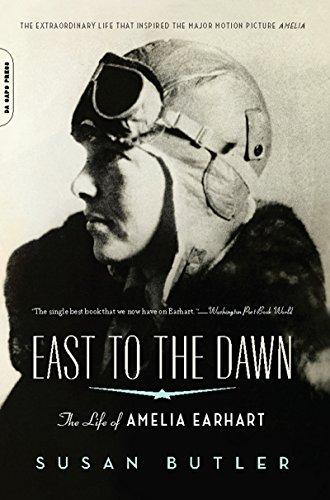 Amelia Earhart (1897-1937) captured the hearts of America after becoming the first woman to fly across the Atlantic in 1928. Nine years later, her disappearance on an around-the-world flight brought her extraordinary life to an abrupt and mysterious end.

Based on a decade of archival research through Earhart's letters, journals, and diaries, and drawing on interviews with the aviator's friends and relatives, East to the Dawn provides the most authoritative and richly textured account of both Earhart's record-setting aviation career and her personal life: her early years with her grandparents, her experiences as a nurse and social worker, her famous marriage to publisher George Putnam, and her secret affair with Gene Vidal, head of the Bureau of Air Commerce.

Butler's first book, East To The Dawn was used as the basis for the movie Amelia starring Hilary Swank.
Praise

"The single best book that we now have on Earhart's life."
–-Fred Kaplan, Washington Post

"It's easy to see why this particular book, among so many other works about Earhart's life and legendary accomplishments, became source material for Hollywood."
–-Christel Loar, Pop Matters

"Definitive."
--Judith Thurman, The New Yorker

"Of the dozen or so books (mostly wild fantasies) that I have read about Amelia Earhart, Susan Butler's is the only one which re-creates accurately that singular woman whom my father was in love with, as indeed was I, aged ten, when the lady vanished."
–-Gore Vidal

"Extraordinary."
–-CBS News Director Mira Nair

"The reader closes East to the Dawn with the lingering realization of how truly contemporary Amelia Earhart remains . . . her insistence on being her own person while fighting for causes larger than herself continues to command our respect and fuel our dreams."
–-Cari Beauchamp, Los Angeles Times

"[An] expansive biography . . . . Rich with detail, "East to the Dawn" is an important book . . . certainly the most comprehensive Earhart biography in recent years. It stirs Earhart, who would have turned 100 this year, from the mists of myth, and finds the flesh-and-blood humanity within the alabaster icon."
–-Renee Graham, Boston Globe

"Exhaustive . . . filled with wonderful details about Earhart's glamorous lifestyle and the wild, dangerous world of early aviators."
–-Kirkus Reviews